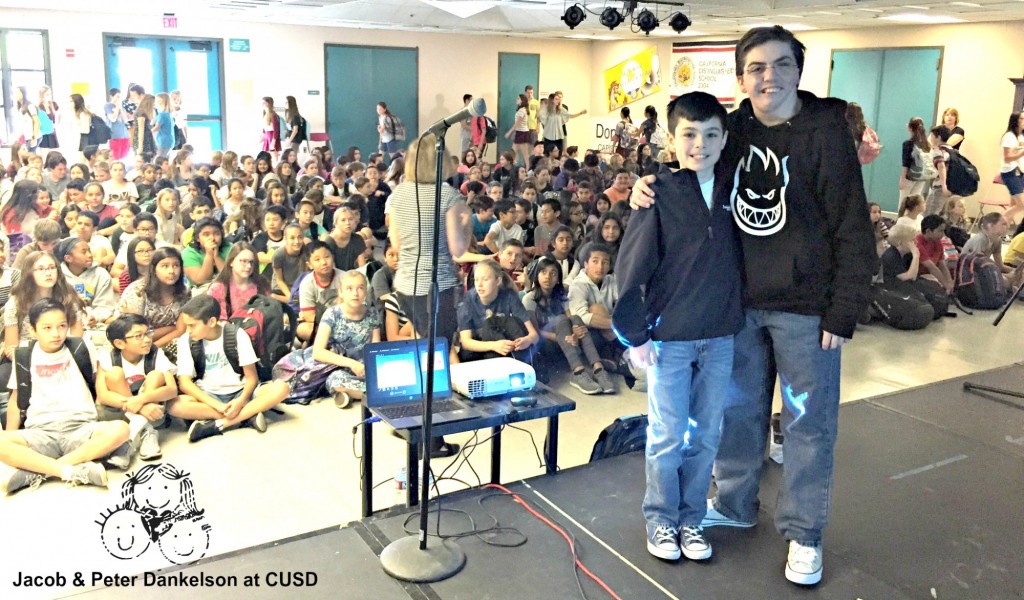 Our Choose Kind Initiative started in 2012 when the book Wonder was published by R.J. Palacio. The novel, now a national bestseller, features the story of 10-year-old August "Auggie" Pullman, a boy with a craniofacial condition. This book follows Auggie as he attends his first year attending school, after previously being home schooled. He experiences the trials and triumphs of most kids going to a new school, and also unique challenges based on his appearance. This book is changing lives in classrooms across the country and teachers send reports of its impact on their students on a consistent basis. The book encourages kids to Choose Kind, meaning choose to practice empathy, tolerance, inclusion, and patience.
While the story is about a student with a craniofacial condition, the message applies to everyone. When this book came out, CCA knew it was an incredible tool for our families, students, and community. We ordered a special edition book with our logo, recommended resources, a special foreword from CCA members, and a letter from the author, Palacio, to CCA Kids. To date, we have ordered 22,500 books and we have been distributing them for the past two years to schools in Dallas, throughout Texas, and in other states.
Perhaps our most valuable resource is our speakers' bureau of "Real Life Auggies," or WonderKids. We have 40+ CCA Kids and Adults who provide unique classroom experiences that deepen the educational and social impact by matching our speakers, who all have facial differences and/or craniofacial syndromes, with classrooms. These CCA Kids visit classrooms that have just read the book, and students are able to connect with them, to ask them questions and discuss how the book reflects their life experiences.
If the school is located in an area without a CCA Family to represent, we can set up a Skype video session or a pen pal program. These activities reinforce the message of the book, Choose Kind, and to strengthen empathy bonds in students across the country. Teachers love these opportunities to bring the book to life. Some classrooms have been so moved that they've responded in many ways, like holding school-wide walk-a-thons and 5Ks for CCA, others starting marble jars to count kind acts, some setting up peer mentoring programs, and a few special communities have hosted city-wide assemblies.
Our Choose Kind initiative is incredibly unique because it benefits CCA Kids by giving them a positive platform and a tool to talk about their difference confidently, but also is incredibly impactful to students who read the books and hear these presentations. Teachers report that after reading Wonder and participating in a visit or Skype session, students are more outgoing and more patient with each other, and bullying problems get resolved. This proactive kindness education is even stronger and more powerful than bullying prevention alone, because our resources help students form values that will stay with them their entire lives. The Choose Kind message is truly universal because at some point in all of our lives we feel unsure, self-conscious, and out of place.
If you would like to get involved, please consider bringing Wonder to your school!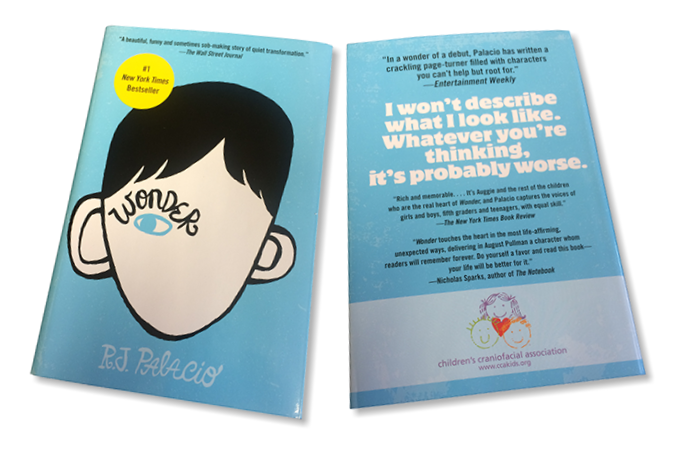 ---
You can order your own copy for yourself or your classroom!
Click here for individual orders.
For bulk orders, contact CCA via email or by calling 800.535.3643.
Available for $12 (including shipping and handling) on our webstore and for bulk purchases and discounts, please contact us.
August (Auggie) Pullman was born with a facial difference that prevented him from going to a mainstream school—until now. He's about to enter 5th grade at Beecher Prep, and if you've ever been the new kid, then you know how hard that can be. The thing is Auggie's just an ordinary kid, with an extraordinary face. But can he convince his new classmates that he's just like them, despite appearances?
R.J. Palacio has crafted an uplifting novel full of wonderfully realistic family interactions, lively school scenes, and writing that shines with spare emotional power.
– Julia Alvarez, Author 
ROMA Boots, headquartered in Dallas, TX, like CCA Kids, teamed up with the producers of the movie "Wonder" (Lionsgate), to create a boot that symbolizes KINDNESS and HOPE. For every pair of WONDER boots sold, a brand new pair will be donated to a child in need via World Vision Canada. CCA loves this work and shares ROMA's vision, because together we are working to make the world a kinder place. To find out more about this limited edition project, click here.
20/20: Wonder Boy – A Story of Transportation

"He's going to be beautiful." Follow an inspirational family as they adjust to life with their son's rare facial condition. "20/20: Wonder Boy – A Story of Transformation" airs Friday, November 17th at 10|9c on ABC Television Network. http://abcnews.com/2020

Posted by ABC 20/20 on Friday, November 10, 2017
"He's going to be beautiful." Follow an inspirational family as they adjust to life with their son's rare facial condition. "20/20: Wonder Boy – A Story of Transformation" airs Friday, November 17th at 10|9c on ABC Television Network.