Livie's Financial Assistance Testimonial
Livie was born on September 25, 2010, after a very long and difficult delivery. She was bruised badly from her nose up, and her head was not exactly round after her delivery. Because of complications with her delivery, we were back at the doctor's office frequently after she was born. At two weeks old I noticed that her head was not rounding out. It was then that we started making our trips to the Mayo Clinic in Rochester, MN.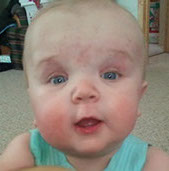 We were told that Livie was born with craniosynostosis, and the only way to fix this was through surgery. If left untreated it could cause a whole new list of problems. Two days after we found out about Livie, my husband, Mike, lost his job. What felt like a horrible nightmare at the time, I can actually say was a blessing in disguise. Mike was there and was my rock for my entire maternity leave. It also gave us the opportunity to have our other two girls home with us as well.
I want to thank CCA's Financial Assistance Program, Annie Reeves and all of those involved in the program. What you have done for my family and all of those you have helped along the way is truly amazing. Without CCA I have no idea what we would have done during such a difficult time in our lives.
I can never repay you for the peace of mind you gave me knowing that our hotel accommodations were being paid for while we were in Rochester for Livie's surgery, but we can pay it forward. Our family is working on paying it forward and hope to make a difference to other families along the way.
Thank you again for all of your support and for always being there.
Mike, Jennie, Addie, Bella and Livie Rutter~Farmington, MN