Sydney's Financial Assistance Testimonial
I remember it like it was yesterday, I was 30 weeks pregnant with my 2nd child and just had a specialty 3-D ultrasound which discovered she would be born with a cleft lip and palate. I had never known anyone with any facial difference and went through about every emotion possible in the coming weeks.
I felt drawn to the Internet, to learn as much as I could to help my baby, and met many other parents going through the same thing. We researched several surgeons across the U.S., and met with the local cleft surgeon in our state twice. I think choosing the surgeon that would change my precious daughter's face forever was probably the hardest decision my husband and I have ever had to make. We knew it would probably be easier to stay close to home, but after much prayer and thought, we felt the best outcome for our daughter would be going out of state to a doctor we had been communicating with in Boston, Ma.
We had no clue how to make this financially possible since our income is very limited. After talking to other parents, I found others that chose to go out of state for their child's medical care. They informed me of CCA and how they could help us. I emailed Annie and the rest is history!
Our first surgery for our daughter was at just 7 weeks old and things were so hectic those first few weeks with learning how to feed her, reflux, hearing issues and trying to plan a surgery out of state. But in a very short time Annie was there supporting and helping us with any needs we had in traveling, and continued to do so for every trip we have had to make from Alabama to Boston, Ma.
We have had to go to Boston a total of 5 times in the past 2 years and every time Annie and CCA have been there supporting and helping us fulfill our traveling needs.  Our trips included a 2 stage lip/nose repair, palate repair, and then two annual cleft clinics. I know more surgeries are in my daughter's future and it's nice to know there is someone out there wanting to help families like us get our daughter to great medical care.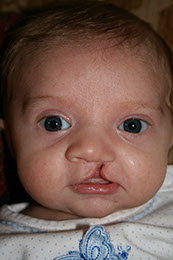 With CCA's help we didn't have to worry so much about the traveling part and could focus more on taking care of our daughter before and after surgeries. I continue to be in shock that such an organization even exists!
The help CCA has given our family to get our daughter to the doctor of OUR choice is the most amazing gift we have ever received. I honestly don't know if it would have been possible without CCA and I thank God for them every night.
Sydney is now 2 years old and is the happiest, healthiest little girl I know. It's difficult to put into words how much CCA's help has meant to us but I look forward to one day meeting these very special CCA angels that are now part of our family and thanking them from the bottom of my heart!
Sydney's operations were performed by Dr. John B. Mulliken at Boston Children's Hospital.