Rosemary's Financial Assistance Testimonial
Rosemary was born on Labor Day in 2009 (September 7) at our home in Midlothian, Virginia. She is our fourth child. As soon as she was born, we knew immediately that something was just not right, so we quickly worked on a plan with our midwife to seek further medical care for our daughter.
We decided to spend the night at home to give Mom and baby some time to bond. Early the next morning, I took Rosemary to the pediatrician's office. That's when we "fell through the rabbit hole" and began our journey to understanding life with craniofacial anomalies.
We were introduced to specialists in Dallas, Texas, and we intended on seeing them as soon as possible. However, the pressure on Rosemary's brain was too high for her to travel, and she needed lifesaving skull/brain surgery right away.
At four-weeks-old, our daughter had a craniotomy, cranial vault remodel and Arnold Chiari malformation decompression. Three major surgeries later (Rosemary was four and a half months old at the time), we thought Rosemary was stable enough to travel, so we went to see the craniofacial experts in Dallas, 1,200 miles from home.
We really didn't have the funds to afford such a trip, but we knew we had to go, so we went on faith that somehow God would provide the resources we needed — and He did. While we were there, the doctors were alarmed about some things that were going on with Rosemary. Our doctors at home in Richmond were not concerned about the things that our Dallas doctors brought up, so we sought a third opinion. Within a couple of days, we discovered that Rosemary urgently needed another surgery to repair a growing skull fracture on the right side of her skull.
During our initial visit to Dallas in February 2010, we visitedAnnie, Char and the restofthe gang at CCA. That's when we learned about the possibility of getting financial assistance for our next trip. This time we knew we had to get back to Dallas quickly, so thanks to CCA, within a couple of weeks we were back in Dallas for surgery in March. Annie worked with us to get a hotel close by the hospital so we could get some rest while Rosemary recovered from her surgery.
In April 2011, Rosemary had an MRI and a sleep study, and we discovered that she would need an anterior cranial vault remodel and a tracheostomy, so I contacted Annie and asked if we could get assistance again. We were approved for a car rental and a hotel stay.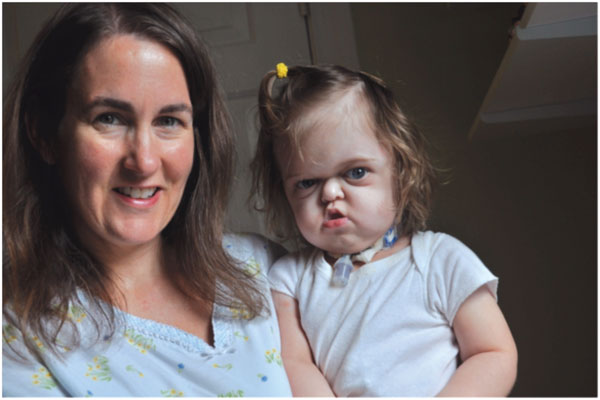 Rosemary's surgery was successful, but her tracheostomy didn't heal as expected, so we ended up staying four days longer than expected. Originally we thought we would be going home on a Monday. Monday came, and we were told
Wednesday. Wednesday then turned into Friday. CCA was able to help us extend our hotel and our car rental the entire time. Not only did this make our stay much more tolerable and manageable, it put our minds at ease, so we could focus on Rosemary's healing.
We are so grateful to CCA and to everyone who's donated to CCA for all that they have done to help us care for our daughter. We don't know what we would have done without your help. Thank you.