Bauer's Financial Assistance Testimonial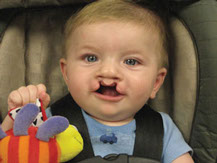 CCA has been an incredible blessing to our family. Our son, Bauer, was born with an incomplete bilateral cleft lip and cleft palate. He has had both his lip and palate successfully repaired. As our journey began and we were praying and seeking the Lord concerning surgeons, hospitals, travel, and of course, finances, we chose to take Bauer to Children's Hospital Boston.
Now four years after his initial procedures we are still traveling to annual clinics. It goes without saying that since the first day our little guy arrived, finances have been a concern. In the last two years, CCA has been a great support system for our family and helped to relieve some of the tension. CCA has provided the cost for one plane ticket each year. While some people may not see this as significant, we could not be more appreciative.
As we are in the season of small children, diapers, and daycares, every penny counts! Having one of our plane tickets covered has given us room to breathe and allowed us to continue saving for future surgeries and travel. Thank you for loving on our family!
Adam, Stacy, Bauer and Aubrey Smehyl